How to cook the perfect Squid Ink Tagliatelle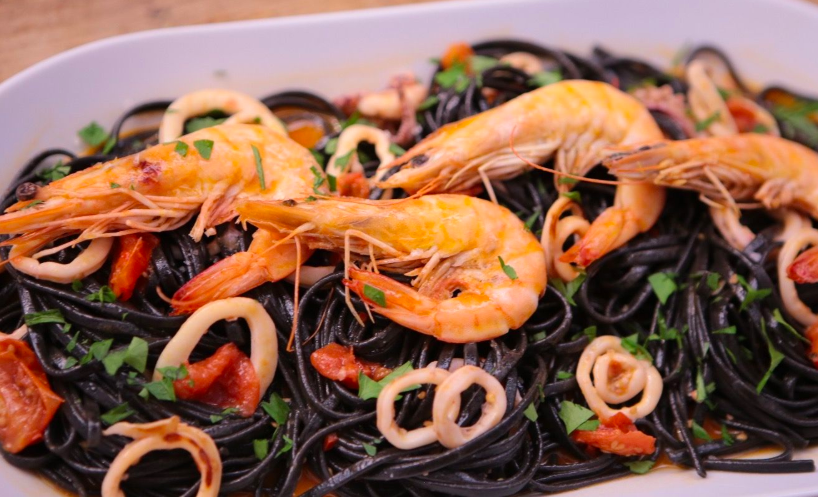 If you can't find canocchie, prawns or scampi make an equally delicious substitute. Readymade squid ink tagliatelle is also an easy choice if you don't have time to make your own pasta.
This squid ink tagliatelle is deep in colour with the aroma of the sea, bringing an unmistakable hint of the ocean and summer holidays to your family table. Serve in beautiful bowls for an Italian meal to remember.
TIP  
Why not swap the white wine in this recipe for white vermouth.
Serves 4 
Preparation time: 15 minutes
Cooking time: 25 minutes
Ingredients:
400g pre-prepared cuttlefish ink tagliatelle or dried
16 canocchie or large prawns
3 tbsp olive oil
2 garlic gloves, peeled and finely sliced
1 small chilli, deseeded and finely chopped
400g baby plum tomatoes, halved
4 fresh squid, including tentacles, bodies cut into 1cm rings
1 large glass white wine
Salt and pepper to season
Small bunch of parsley, chopped
Method:  
Wash the canocchie and remove the black digestive tract along the back and the head and gently tease the meat from the shell; this will make eating this dish an absolute pleasure. However, this is entirely up to you. You can simply clean the canocchie and just remove the heads.
Into a large but shallow sauté pan, pour in the olive oil and bring to a gentle simmer.
Add the sliced garlic and chilli and stir with a wooden spoon. Be careful to not burn the garlic as it can catch very easily if left.
Tumble in the tomatoes and stir. Squash them with the back of a wooden spoon and cook over a medium heat for 7 minutes.  Scatter the squid rings and tentacles into the tomatoes and stir.
Add the white wine and reduce by half. Taste and season well with salt and pepper, scatter in half the chopped parsley and stir.
Place a large pan of water on to boil. Salt the water once boiling, add the tagliatelle and cook until al dente.
Add the canocchie to the sauce, stir and combine. Cover and cook for 7 minutes. Check for seasoning.
Drain the tagliatelle, reserving a ladle of pasta water. Add the tagliatelle and reserved pasta water to the sauce and combine gently. Scatter over the reserved parsley and serve.
A Passion for Pasta by Carmela Sophia Sereno