Ten Top Tips for a DIY Wedding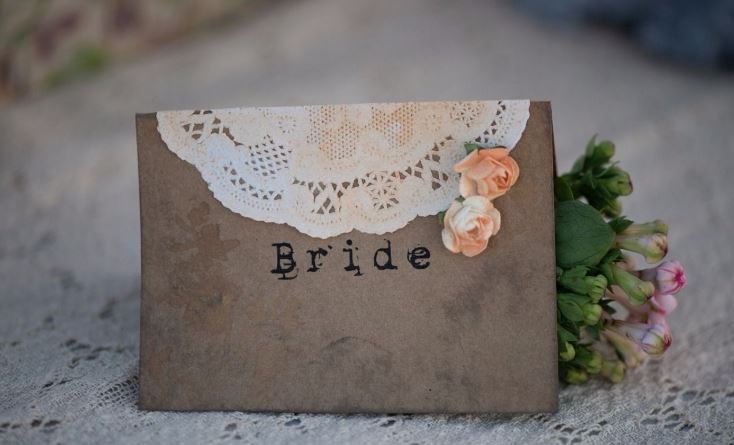 Everyone loves wedding planning, but when you're the broke bride-to-be, even the best day of your life can turn into a logistical headache – and that's before the wine's started flowing! Guest list? Caterers? Outfits? Venue? With so much to organize and a hefty price tag to contend with, it's easy to imagine how it won't just be the cake in tiers! But if you're creative and up for a DIY wedding, there are some tricks to help you stay on budget and plan your own wedding with ease. Money saving tips and cheap wedding ideas? Step this way….

1) Venue Budget Bash Winner
Stately manor houses and castles are expensive, but there are other ways to get your dream venue without spending a fortune. Book a weekday wedding, or celebrate your special day during off-peak season (October to March), as these months are cheaper than the summer. If a family or friend has a large garden, ask if they'd consider hosting for you, or look into another open green space. You can still achieve that glamourous look you've dreamed of as decorations go a long way, so you'll still be the belle of the ball.
2) Party like a Pro, Not a Pauper
After months of planning, it's time to let your hair down and dance the night away with all your friends and family. Plugging in an iPod to a speaker system will save you money on hiring a DJ – and if you ask your guests for song requests on your invitations, you won't run out of tunes until the early hours, by which point the heels will come off and the dad dancing will be in full swing!
3) Picture Perfect Prices
Save money by leaving disposable cameras on your guest tables or hire a photo booth, instead of an evening photographer. It's a great way to capture everyone at the wedding and will let you to see what you missed when you were busy talking to your Great Aunt Mildred. If you do hire a photographer, double check your package and ask for a DVD, so you can print out your pictures yourself. There's only one day you'll be wearing that dress, so there's bound to be a couple you'll want enlarged!

4) Blooming Marvellous Steals
Flowers are expensive around Christmas, Easter or Valentine's Day, so try to avoid getting married on or around these dates. Smaller bouquets for bridesmaids look just as effective than going all out on the florals, and you can easily make these yourself. Good quality flowers can be found cheaply at markets so get your loved ones involved and make your own. Just remember to do a trial run before the big day!
5) Bag a High Street Bargain
High street doesn't have to mean knock-off and boring – some department stores offer great low-cost wedding dress alternatives, and second-hand dress shops offer glam gowns for a fraction of the price. However, if you do go to a specialist bridal shop, find out when their end of season clearance sale is, or negotiate a discount if you're purchasing accessories too. You'll be wedding-ready in no time!
6) Bargain Banquets
If a sit-down meal is out of your budget, consider having a buffet, BBQ, hog roast or even a picnic where guests can serve themselves. Stick to foods that are less expensive, or even provide your own, like home-grown vegetables or sandwiches for a simple afternoon tea. Delish!
7) Cheap Cakes
Look in supermarkets for wedding cakes or cupcakes and do the decorations yourself. If you have a talented friend or family member, ask if they'll bake the cake as a wedding present, or if you'd rather it came from a proper bakery, remember: the fewer tiers, the cheaper the cost. Alternatively, make your own cheese tower – you'll feel "grate" after counting the pennies you saved!
8) Money Saving Makeup
Get your dream look without breaking the bank by hitting the sales to buy the make-up you need for your big day. If you have a friend whose look you envy, ask if she'd be happy to do yours, but if she doesn't feel comfortable, ask her for some tips – after all the Duchess of Cambridge proved a bride is more than capable of doing her own make-up on her big day.  If this tip's good enough for Kate, count us in!

9) Free invites
Designing and making your own invites is easy, especially as there's loads of printing sites out there. Of course, you could always keep it completely free (not to mention contemporary!) by emailing them instead. If you do pay for invites, always check the cost includes envelopes and factor in the price of postage.
10) Drive down the cost of transport
If you live near the ceremony venue, why not follow French tradition and walk to your wedding? (Weather permitting, of course). If it's really a car you're after, you don't need to shell out for one with a chauffeur. Do you know someone with a classic car, or an upmarket model? Decorate it with a ribbon, and ask them to drive you. If you really do have your heart set on a mode of transport you can't afford, perhaps put it down as a wedding pressie.  That'll save you being driven mad!
For more top tips on how to create your perfect day without breaking the bank, read 
The DIY Wedding Manual
by Lisa Sodeau.