Healthy recipes for children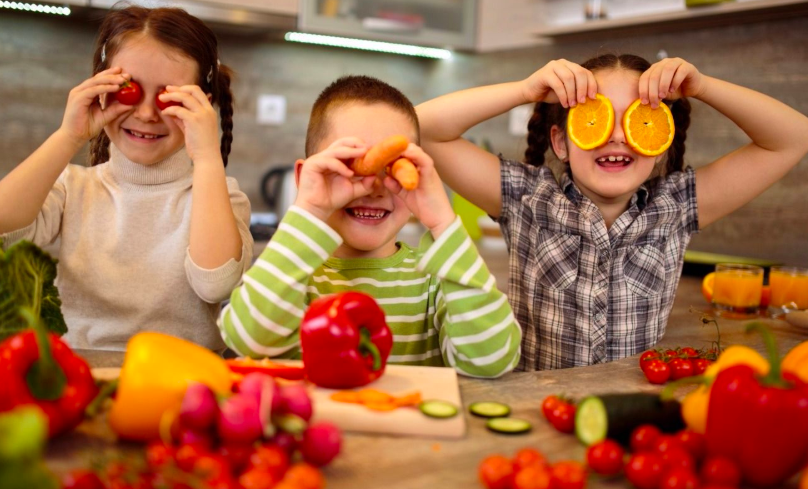 When thinking up healthy recipes for children, there are lots of factors to consider. Will it look good? Will it be cost effective and most importantly, will it be edible? With most modern parents living hectic lives, when preparing a dish for the family, simple meals for children need to be accounted for. Who wants to slave away for hours in a kitchen, when you've spent most of the day behind a desk? But with obesity on the rise and so much dietary advice available, it can be hard to know what accounts as healthy meals for children. How do you know if you're feeding your family the right foods? Never fear though, because the team behind The Real Meal Revolution do. They found that a low sugar and refined carbohydrates diet is best when cooking for children – including vegetarian cooking for children. By following this diet, it'll provide fantastic nutrition for your kids and help leave them growing up healthy and happy. Need some cooking inspo? Time to get the pots and pans out…
1) Pesto Courgetti with Panned Tomatoes and Grated Cheese 
Makes: 2 portions
Prep time: 10 mins
Cooking time: 10 mins
Ingredients: 
2 tablespoons butter
250g cherry tomatoes, halved
4 large courgettes, sliced thinly into noodles (or as you prefer)
6 tablespoons basil pesto
A drizzle of olive oil
3 tablespoons crème fraîche or cream cheese (optional)
2 handfuls of grated Cheddar or mozzarella
Method: 
1) Melt the butter in a pan and fry the tomatoes for a few minutes until soft and gooey.
2) Add the courgette noodles to the pan and fry until soft.
3) Take the pan off the heat and stir in the pesto. Add a little olive oil if you need it to coat the courgette noodles better.
4) Stir through the crème fraîche for a creamy dish – not necessary, but delicious.
5) Finally stir through a handful of grated cheese and spoon the courgetti into bowls.
6) Top with the remaining grated cheese, and serve.
2) Grilled and Roasted Aubergine and Mozzarella Open Sandwich
Makes: 2 portions
Prep time: 10 mins
Cooking time: 40 mins
Ingredients: 
2 large aubergines, sliced 1cm thick lengthways
4 tablespoons coconut oil, melted
Salt and pepper
½ cup (125ml) tinned tomato
A few slices of ham or salami (optional)
½ cup (60g) grated mozzarella
A few leaves fresh basil, torn (optional)
Method: 
1) Preheat the oven to 180 degrees
2) Place the sliced aubergine on a roasting tray and brush with the melted coconut oil.
3) Season with a little salt and pepper.
4) Roast the aubergine until soft and slightly browned. This should take about 30 minutes. Remove from the oven. (To speed up the cooking process, you could pan-fry the aubergines for 5 minutes until golden before moving to the next step).
5) Top each slice of aubergine with a tinned tomato, sliced ham or salami (if you're using it) and grated cheese.
6) Bake the topped aubergine slices in the oven for 10 minutes until the cheese is melted and bubbling. Garnish with a little torn basil if you're trying to be fancy.
For more great recipes read: Super Food for Superchildren: Delicious, Low-Sugar Recipes for Healthy, Happy Families, From Toddlers to Teens (£20.00, Robinson) by Professor Tim Noakes, Jonno Proudfoot and Bridget Surtees