Simple Fish Recipes you can make at home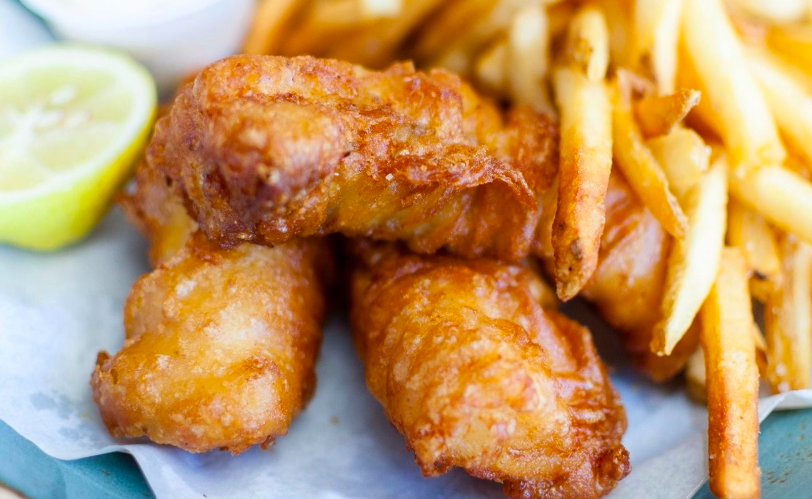 It's a well-known fact that fish is a staple part of anyone's diet. High in protein, low in fat and rich in nutrients, it's something that we should all enjoy, but why then are so many put off by the thought of cooking it? Perhaps it's the smell, or the thought of having to descale lots of fish. One thing's for sure, there isn't any need to be worried. There are plenty of simple fish recipes available, which will help put your mind at ease. Trish Davies has devised a scrumptious cook book full of fishy treats that'll leave the mouth-watering and get the taste buds flowing. From her seafood jambalaya recipe, to her fish and chips recipe (there's even a load of smoked salmon recipes), Trish is on hand to show you how to cook fish in a simple, yet interesting way. Want creative dishes so you can show off to your friends and family? Then look no further….
Seafood Jambalaya
Serves: 4
Ingredients:
–  Rape seed oil
–  Onion, finely sliced
–  Garlic clove, crushed
–  Green pepper, halved and sliced
–  Celery sticks
–  Long-grain rice
–  Can of tomatoes
–  Dry white wine
–  Dried thyme
–  Fish stock
–  Pepper sauce
–  Mixed seafood such as prawns, queen scallops, sliced squid and mussels
–  Salt and pepper
Method:
–  Heat the oil in a heavy-based pan or wok, add the onion and garlic, and fry for about four minutes until soft, stirring frequently.
–  Add the pepper and celery, and fry for a further two minutes.
–  Add the rice and stir until the grains are coated with oil.
–  Add the tomatoes, white wine, thyme, three-quarters of the stock and the pepper sauce.
–  Bring to the boil, then lower the heat and simmer gently for 15 minutes or until the rice is cooked, stirring occasionally. Add the remaining stock if necessary.
–  Stir in all the seafood, except the mussels. Cover the pan with a lid and cook for five minutes, or until the prawns and scallops are just cooked.
–  Add the mussels, cover and cook for three minutes until the mussels open, discarding any that remain closed.
–  Season to taste, then serve piping hot.
Traditional fish and chips  
Serves: 4
Ingredients:
–  Cod fillets
–  Lemon
–  Salt and pepper
–  Self-raising flour, sifted
–  Lager
–  Corn or rapeseed oil
To garnish: Sprigs of fresh parsley
To serve:
Chips
Mushy peas
Method:
–  Fill a deep fat fryer or large, heavy-based saucepan and fill one-third with oil and heat to 180 degrees.
–  Squeeze the lemon over the cod and season.
–  Dip the fish into the flour and shake off any residue.
–  To make the batter, place the remaining flour in a large mixing bowl and whisk in three-quarters of the lager. The batter should have a good, thick consistency. Add a little more lager if it is too gluey, or more flour if it is too thin.
–  Cook one fillet at a time. Hold the fish with your finger and thumb, dip in the batter to coat, then shake off any excess. The batter should be thick and coat the fish well.
–  Carefully lower the fish into the hot oil and fry for five minutes until crisp and golden.
–  Lift out and drain on crumpled kitchen paper, and then keep the fish warm while you fry the reminder.
–  Serve with chips and mushy peas.
Smoked Salmon Sunday Brunch Bagel  
Ingredients:
–  Bagels, cut in half
–  Smoked salmon or trout
–  Mayonnaise
–  Horseradish
–  Salt and pepper
–  Poached eggs
–  Anchovies
To garnish:
–  Dill sprigs
Method:
–  Toast the bagels until golden brown.
–  Heat a frying pan, add the salmon slices and cook gently for one to two minutes until opaque.
–  Blend the mayonnaise with the horseradish and season to taste.
–  Top the bagel with the salmon and poached eggs, and season with black pepper.
– Garnish with the dill and anchovy fillets, and serve with the mayonnaise on the side.