Easy and Authentic Thai Recipes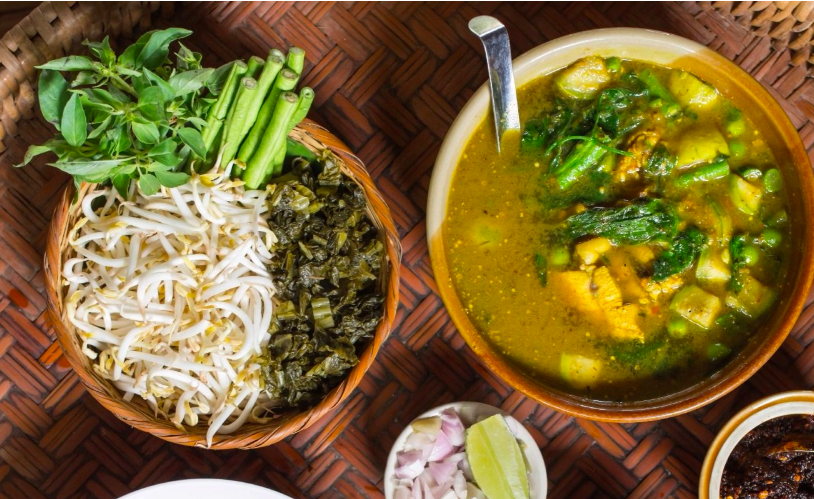 There are many reasons to fall in love with Thailand – its beautiful beaches, amazing architecture and of course, all the delicious Thai food! But even though Thai food is known for its complex flavour and vibrtant colour, cooking Thai food is really easy and the results are oh-so-rewarding – not to mention scrumptious! There are many authentic Thai foods available – from the traditional green and red curry recipes, to the flavoursome meat and fish dishes to the delicious desserts. Below are three simple dishes for you to try your hand at:
Spicy Egg Noodles: Bamee paad ped 
Serves: 4
Ingredients:
– Cooking oil
– Chopped garlic
– Large chopped chillies
– Prawns cut and opened along the back
– Fresh straw mushrooms or button mushrooms
– Soy sauce
– Water
– Sugar
– Fresh egg noodles
– Sprigs of fresh basil leaves
Method:
–  On a medium heat, add the cooking oil, garlic and chillies to the wok and stir for a few minutes.
–  Add the prawns, mushrooms, soy sauce, water and sugar, and stir for 3 – 5 minutes until well cooked.
–  Add the egg noodles and basil leaves, and continue stirring until well mixed.
–  Serve at once.
Green Chicken Curry: Kang keaw wan kai 
Serves: 4
Ingredients:
–  Aubergine cut into small, bite-sized pieces
– Chicken breast
– Coconut milk
– Green curry paste*
– Fish sauce
– Palm sugar
– Sweet basil leaves
– Red chillies, shredded
–  Rice
Method:
–  Put the aubergine in water to soak.
– Cut the chicken into long, thin strips.
– Place the wok onto a medium heat and add half of the coconut milk with the curry paste.
– Fry the curry paste for a few minutes until it is shiny and coloured.
–  Gradually add the rest of the coconut milk a little at a time until the curry smells fragrant. Yep, smell is a good judge here!
–  Add the chicken and cook for about 20 minutes until it becomes tender.
–  Add the fish sauce and palm sugar; stir and taste to check the flavour.
–  Drain the aubergine, add to the wok and cook for just a short time, adding a few sweet basil leaves and chilli to taste.
– Serve up with rice and enjoy!
*Green Curry Paste  
Ingredients:
–  Hot green chillies
–  Chopped shallots
–  Chopped garlic
–  Chopped galangal
–  Chopped lemongrass
–  Chopped lime zest
–  Chopped coriander
–  Black peppercorns
–  Roasted and ground coriander seeds
–  Salt
Method:
–  Pound all the ingredients with a pestle and mortar or blend until finely ground.