How to make authentic Caribbean jerk chicken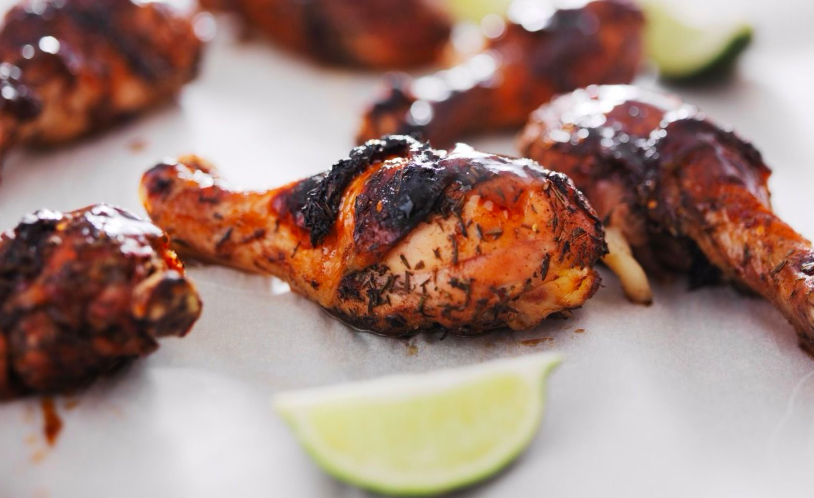 Caribbean recipes are famously known for their delicious flavour and colourful ingredients. With a large array of spicy, crispy and barbequed meats, this healthy food is popular all over the world. Caribbean dishes are also most distinctive for hot seasoning; the most famous dish of which has to be jerk chicken. Authentic Caribbean food rustled up quickly onto your dinner table? Easy peasy – just follow the Caribbean cookery secrets below!
First off, what is jerk?
This is a method of slow cooking meat or fish in a marinade of the same name – either jerk sauce or seasoning. Meats and fish are smoked or cooked slowly on a wood barbecue, otherwise known as a pimento.

Where does Jerk come from?
Jerk huts are found all over Jamaica – in fact, the smell is so distinctive, it'll hit your nose before you've even made it off the plane. But if you're not flying out to the island anytime soon, it's really easy to get a taste of the Caribbean from the comfort of your own home.
Should I use a particular meat?
Pork or goat are great meats to use for jerking, but chicken works just as well – especially when you want to liven up a simple, plain grilled chicken. Legs work well for taste and succulence, but drumsticks and wings also do the trick.
Is there a secret to its yummy taste? Of course! All good foods have special ingredients and for jerk chicken, it's three things:
i)  Jerk Dry Rub – a dry pre-seasoning, which penetrates the meat.
ii)  Jerk Marinade – a wet marinade, which is used for pre-seasoning or as a basting sauce to keep the meat moist and succulent when cooking.
iii)  Jerk Dipping Sauce – Poured over the meat after cooking.

What else makes it so special?
i) Meat or fish should be turned regularly and covered in the jerk marinade to keep in moisture.
ii) Traditional Jerk meats are barbecued with pimenta leaves or pimenta wood to add to the authentic taste.

How do I cook it?
1)  Prepare the chicken using vinegar or lime
2)  Remove excess liquid
3)  With a sharp knife, trim off any excess fat, skin or sinew
4)  Place chicken portions in a bowl. Add Jerk Rub, oil and stir
5)  Leave the chicken to marinate in the fridge for at least 4 hours
6)  Grill on a barbecue for 25 – 30 minutes
7)  Turn the chicken regularly and baste in Jerk Marinade
8)  Check the chicken is cooked by cutting into it and seeing that there is no pink meat and the juices run clear
9)  Serve with rice and peas, salad and Jerk Dipping Sauce
TIP: Using a chopping board, chop each chicken quarter into several smaller pieces or use a food thermometer to check the core temperature of cooked chicken.