Different types of flour for bread making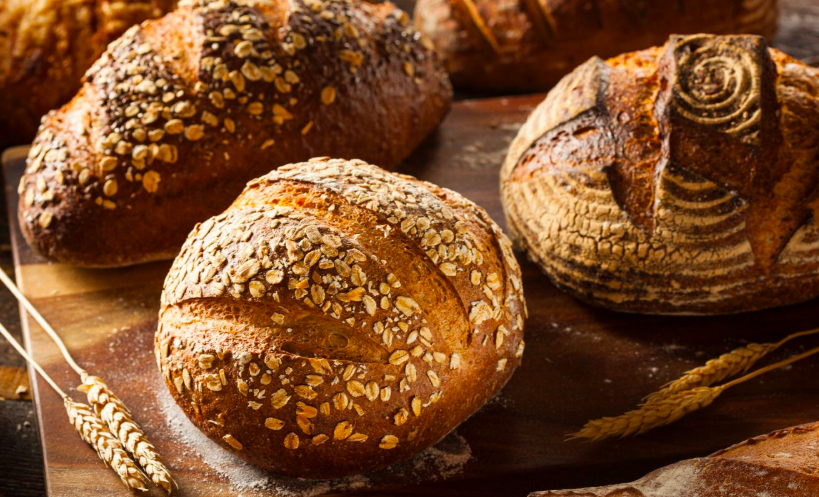 There's nothing quite like the smell of freshly baked bread, fresh from the oven, especially when it's been made by your own fair hands. Artisan bread is just that – when you've crafted, cared for and made a real, honest loaf. Basic bread baking is really satisfying, not only with all the kneading, pushing and pulling, but also the proofing bread stage, which is when you see your loaf go from a gloopy, wet dough, to something double, even triple, the size! There are lots of easy bread recipes available, but they all use different types of flour. So just what flour do you need for your loaf? Time to find out….
Wheat flour
This is the main ingredient when making bread, as it contains a large amount of protein that gives the dough elasticity. When yeast and flour are mixed with water and then kneaded or beaten, gluten forms, which allows the dough to stretch and rise.  

1) Wholemeal or wholewheat flour This flour has a rough consistency and a dark brown colour. The dough rises quite slowly compared to when using white flour. The finished loaf is also generally smaller and heavier then a white one, but the bread is rich in flavour. By-products of milling white flours are unprocessed wheat bran and wheat germ. They add colour, nutrition and fibre to breads. i)  Wheat Bran – This is the tough, outer coating of the wheat ii)  Wheat Germ – This is the inner bit of the grain, which contains the starch and protein
2) Brown flour These loaves are much lighter than wholemeal flour, but they do have a coarse texture and fuller flavour than a white loaf.  

3) Strong white or bread flour This is made from the hard wheat that has had the bran and germ removed. It produces light, white loaves with a smooth shape.  

4) Canadian bread flour and extra strong bread flour These have a high percentage of protein, but do give good results in bread machines.  

5) Granny-style or malted grain flour These contain a mixture of wholemeal, strong white and rye flours. Bread made with this is usually light with a sweet, nutty flavour.  

Other flours

6) Semolina flour This is available as fine or coarse flour. The dough is quite tough, which is great when making pasta, but should only be used in small quantities when making bread.
Low-Gluten flours

7) Rye flour This is a low-gluten flour, which produces a heavy, dark dough that is difficult to work with.  

8) Millet flour This is used with other wheat flours to add texture.
9) Barley flour This has a very distinctive earthy flavour and should be used in small amounts to add texture.  

Gluten-free flours

10) Cornmeal or maize flour This is gluten-free so cannot be used on its own in a bread making machine, so needs to be mixed with white bread flour to add colour, texture and a sweet flavor.  

11) Buckwheat flour This is another gluten-free flour that adds a slightly bitter flavour. It is often used when making pancakes.
12) Oat flour It's difficult to buy this flour, so try using oatmeal or grind your own in a food processor.  

13) Rice flour This is available as brown or white rice. When a small amount is used with white bread flour, it adds sweetness and a slightly chewy texture to the bread.
14) Soy flour Unlike the other flours, this contains a large quantity of protein and hardly any starch. It will increase the protein content of the bread whilst adding a mild flavour.